Description
The DC Automated Accelerated Reliability Test Station (AARTS) systems are designed to maximize channel density. The first systems developed by Accel-RF (ARF) were intended for RF and DC stimulus to the Device Under Test (DUT). However, there are some applications in which RF stimulus is not required.
---
Specs
A larger number of channels may be placed into the same footprint (up to 96 channels maximum)
Two DUT fixture options are available (see description below)
The system cost is lower because expensive RF components are not required
Total power dissipation is lower
Calibration is simpler since no RF is required
---
Documentation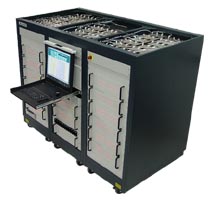 Contact a Member of Accel-RF Sales Team Today!
Contact Us